Nick Veale
We've all been there. Standing faced with shelf after shelf of bottles. How do you choose between them? Is there even a difference? Why is that bottle $45 and this one $145?!
I'm starting off with one of the most varied spirits and one of my favourites. RUM
Let's break it down.
Q)How do you choose between them?
A) Try to learn at least a little bit what the different types of Rum. (Read below) Have some go-to bottles and styles. From there you can experiment.
Q)Is there even a difference.
A) Yes! Maybe more so than with Rum than any other category of spirits.
Q) Why is that bottle $45 and this one $145
A) It depends. Either the expensive one is reeeaaaaally good and made in tiny amounts which increased the costs. Or it has some good marketing and the company decided they wanted to make a "Super Premium" Brand. Or we get done over on alcohol tax here in Australia.
Regarding Rum the price normally relates to the first and last points.
Rum Essentials
Typically people will talk about light rum, gold rum and dark rum. This is fine but my reason for stepping away from this is that it doesn't actually you tell that much about the flavour. This idea of Rum styles will give more information about what you can expect to taste when you open the bottle.
Spanish Style Rum - Light and neutral tasting. Typically made from molasses. I have recommended bottles below, but you can look out for Bacardi, Havana Club, Flor de Cana and Diplomatico, and Ron Zacapa to name just a few. You can choose between Aged or un-aged depending on your budget.
Jamaican Style Rum - More complex and funky. These bring some more complex flavours that the Spanish style that really livens up your drinks. Brands to look out for would be Appleton Estate is the main one that's really easy to get here in Australia. But you can look out for Smith and Cross.
English Style Rum - This richer style of rum is often distilled from demerara sugar. English and Jamaican Styles are commonly grouped together but in my opinion, you need one of each which is why I have separated them. Dark black rums are essential for certain drinks. Rich and deep in flavour you'll be missing out if you don't have one. Look for Goslings Black Seal and Pusser's if you can find it.
French Style Rhum - Made from pressed sugar can juice this has a grassy, earthy taste. For most people, this french style of Rum is probably like nothing you've tasted before. For the most part, it is produced in the West Indies and names Rhum Agricole
Shopping List
1 x Spanish Rum
1x Jamaican Rum
1 x English/ Black Rum
1 x French Rum (optional)
If in doubt, always remember more Rum is better than less Rum
Recommended Bottles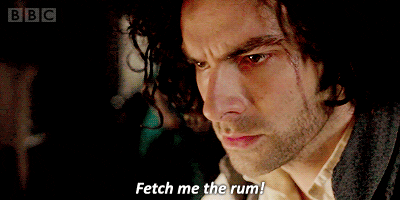 Let me be clear. You don't NEED all of these bottles.
Get the essentials first, after that everything else is a luxury, but always remember more Rum is better than less Rum.
Less than $50*
Bacardi Carta Blanca $39.95 (Spanish)
This is the best selling rum in the world and a solid bottle for your bar. Easy to mix and affordable.
Havana Club 3 Year $47.99 (Spanish)
This is my go-to bottle of Spanish style rum. It's a little over 10 dollars more expensive than Bacardi but for my money, it's worth it every time. As I said above, you need a Spanish style rum in your collection.
Admiral Vernons Old J Spiced Rum $45.99 (Delicious/ spiced)
This bottle looks relatively unassuming but its contents are both delicious and for many of us will taste vaguely familiar. A certain Sailor branded spiced rum company changed their Spiced Rum recipe a few years back causing a bit of a stir. Their new recipe was great but a lot of their loyal customers preferred the original (I know because I used to pour it for them! Old J is that original recipe and to make it even better at $44.99* they're practically giving it away!
You don't really need a Spiced Rum for making cocktails, but you do need it for that one mate who thinks that "they only like spiced rum". This one tastes great and is a bargain.
$50- $80 a bottle
Appleton Estate Signature Blend $50.99 (Jamaican)
Jamaican rum is essential to your bar setup. This is one of my go-to bottles. It's at the affordable end of things (there are some more premium Appleton bottling's available if you're feeling flush). Appleton brings the funk and is essential to your tiki lineup.
Bacardi Ocho 8 year old $57.99 (Spanish)
Bacardi 8 or Havana 7? It's like Captain America vs Ironman. You can pick sides or just buy both.
Havana Club 7 Year old $59.99 (Spanish)
See above.
Both Bacardi 8 and Havana 7 can be interchanged with their cheaper counterparts any time you feel like making a Daquiri or a Mojito taste a little more special. I like to keep an aged and a white Cuban Rum in my home bar.
Goslings Black Seal $68.99 (English)
This falls more into the black rum than English Rum category but lets not over complicate things. The essential ingredient of a Dark and Stormy. Dark in colour, rich in flavour. Delicious.
Tip. Watch out for the 151 bottles. Its 75.5% alcohol, if you pick that up by mistake it'll cost you twice the price! Its best used in tiny amounts being blended with other rums in Tiki Drinks (see below).
Saint James Rhum Agricole Imperial Blanc $74.25 (French)
This is a delicious entry into the world of Rum Agricole. On it's own it can take some getting used to, give it a try in the Ti Punch. Blending this into a cocktail is my favourite thing use for this style.
With Tiki drinks such as the Mai Tai, split the Rum base into 2 or three styles of Rum. For example, if the recipe calls for 60ml Rum, try
20ml Spanish Style
20ml Jamiacan
20ml Rhum Agricole
Plantation Stiggins Fancy Pineapple Rum $69.99 (Just buy it!)
Forget everything you thought you knew about flavoured spirits. This stuff is the cat's pyjamas. Stop reading, click through the link and buy a bottle and then come back and read the rest of this post. I'll wait here.
El Dorado 12 Year $79.99 (If you want to treat yourself)
This is a wonderful bottling and a great sipping Rum. Many would argue that it's too good to mix, but who are "they" anyway?
I would drink this is a Rum Old Fashioned.
*All prices are in AU$ and were correct at the time of writing.
Based on Danmurpheys.com.au
Do you have a favourite rum that I missed?
Comment below!
Happy Rum Days
Nick
#drinkbetter #keepcalmandcocktail