Nick Veale
Top 3 Must Have Cocktail Books
There are a lot of cocktail books and manuals out there ranging from mediocre to game changing. It's getting to the point where it can be hard to know where to start and where to spend your hard earned cash. I have amassed quite a collection of drinks manuals and I enjoy shopping for and reading new ones.
There are 3 books that stand out to me as "must have's". They will build a perfect foundation of cocktail techniques and knowledge that over the years you'll be able to expand on if you wish and there are enough recipes to keep you trying out new drinks for a lifetime.
"The problem with most cocktail books is that all they are is a book full of cocktails"
There are plenty of cocktail encyclopedias available, none of them feature on this list.
What I think makes cocktail books great is getting an insight into the mind of the bartender(s) that wrote them.
My favourite books discuss:
Techniques and how to apply them

Flavours and how too combine them

The recipes themselves and how to vary or tweak them to your liking

Spirits, how they're made and which bottles to buy
If you are interested in picking on of these up simply click the name of the book or the image and i've linked them for you.
So without further ado here are my Top 3 Must Have Cocktail books
Best For: Classic Cocktails
Imbibe! is first on my list because it starts at the beginning. It goes back to the first ever cocktail manual written by Jerry Thomas and published back in 1862 and translates each recipe into modern day measurements along with offering up insight into where to adjust the recipes for the modern palate and other suggestions for tasty alternatives. The reason that this is interesting is that this first bar manual features many classics that we still drink and serve today. Each recipe is surrounded by the history and origins of the cocktails and the recipes in here will be enough to keep you busy for months
if not years. The main reason why this is number 1 on my list is due to the old cliche.
"You can't know where you're going if you don't know where you've been".
If you're just starting out in you'r bartending career the information in this book will give you a framework of knowledge that will take you anywhere you need to go. If you're a home cocktail enthusiast it'll give you a ton of recipes along with some cool anecdotes to share with your friends as you enjoy them! Win, win.
2) Death and Co. - David Kaplan, Nick Fauchald & Alex Day
Best For: Modern Classic Cocktails, Bottle/ ingredient recommendations and flavour pairing idea's.
Death and Co. is my favourite Modern cocktail book to date. There are several reasons
why I regard this book so highly the first being it isn't just recipes. The first half of this book is full of useful information for the aspiring pro, or home enthusiast. It breaks down each spirit category thoroughly providing insight into uses and most significantly provides suggestions for which bottles and brands to shop for and why. It then has a chapter on drinks creation including examples of how the team at Death and Co. work on new recipes and then provides suggestions for "flavour buddies" that will be enough to provide you with inspiration for dozens of cocktails. After all that they finally get into the recipes providing a thorough catalogue of classic recipes (most of which you will recognise from the pages of Imbibe!) followed by the specs (that's bartender speak for recipes) for all of their own original drinks. I particularly like their recipes because for the most part the are simple and easy to replicate, as the majority of the recipes in the book are made with readily accessible products. There are a portion of the drinks that do require some homemade syrup, or infusion but again these are easy to do at home in small amounts, and are useful across multiple drinks contained within the book.
"a very enjoyable way to spend a evening is with one page from A Spot At The Bar open working my way through all of the variations of a Sidecar"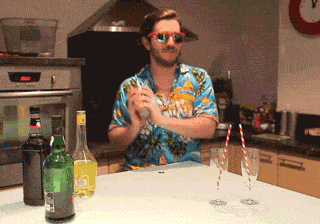 3) A Spot At The Bar: Welcome to the Everleigh - Michael Madrusan and Zara Young
Best For: Finding new recipes and an excellent presentation of how many recipes can be linked together.
Long before I wrote this list I would frequently be asked to recommend my Top 3 cocktail
books by my bartending students. The first two always came to mind immediately the third would present a slightly less easy choice. The problem with most cocktail books is that all they are is a book full of cocktails. Once you own one or have an understanding of the classic recipes a book full of drinks stops being so interesting. What A Spot At The Bar does very well is that it delivers a carefully chosen selection of drinks to highlight and then along side each of these drinks explains all of the other cocktails that can be made using the same or similar recipe but by simply swapping out 1 or two ingredients. I'm speaking from experience when I say that a very enjoyable way to spend a evening is with one page from A Spot At The Bar open working my way through all of the variations of a Sidecar.
*PLEASE don't try this if you plan on doing anything important the following day*
Honorable Mention
Liquid Intelligence -Dave Arnold
Best For: A scientific approach to cocktails.
This book explains the science behind dilution, shaking stirring and everything in between. This book booked held the number 3 spot on my list before I read A Spot At The Bar.
Meehan's Bartender Manual - Jim Meehan
Best For: A thorough examination of everything a professional bartender or bar owner needs to know.
This is the most recently published of all of my recommendations and may soon be claiming the number 3 spot on this list. It's the second book written by Jim Meehan who is one of the most recognisable names in the bar industry and one that he has really gone to great length the pass on insider knowledge from the industry
Happy Reading!
Nick
Did I miss any of your favourite books?
Comment below and tell me, I'm always shopping for my next one :)
#cocktailbook #cocktails #cocktail #mixology #cocktailmanual #cocktailguide #jerrythomas #deathandco #imbibe